Tihanyi Hajós Egylet (THE) is a marina is located in one of the most picturesque spots of the lake Balaton, in the peninsula of Tihany. Our marina has 70 moorings, each equipped with water and electricity supplies. Parking places, kitchen, bathrooms, meeting room, TV, internet and fax services are staying to the sailor's disposal.
Nearby you can find a few hotels and guesthouses, and different restaurants, most of them with excellent Hungarian and international cuisine. In our marina is a very nice and tidy beach, as well. A bar on the port side helps our guests to enjoy the sunsets over the lake.
Plan your next sailing holiday into our marina!!!
Our guest' mooring places are waiting for all kind of sailboats for few week vacations, or just for a short overnight stay. As our port is equipped with crane up to 5 tons, you can bring your own boat to us. The marina is ideal as a starting point for a Lake Balaton sailing-tour: if you bring your own boat, we cran it to the water, and store your car and trailer in our guarded facilities. For longer than an overnight stay prior booking is advised.

ifj. Gyula Bánó
dock master
06 (20) 468-5477
uh.liaseht@onab.aluyg

Mocsán Ferenc
marina services worker
06 30 439 7773
mocsanferenc@gmail.com

András Klepeisz
marina services worker
06 (30) 504-3259

Andrea Rutai
marina manager
06 (30) 961-6838
uh.liaseht@iatur.idna

Eszter Fábián
office staff
06 (30) 970-7315
uh.liaseht@naibaf.retzse

Viktória Héjj
camp applications
06 (20) 222 9867
uh.liaseht@jjeh.airotkiv

Gergely Gond
coach in camps
06 (30) 460-4158
moc.liamg@024dnog

Márton Beliczay (Bőrtok)
head coach
06 (20) 424-9112
moc.liamg@yazcilebm

Attila Regős (Morzsi)
470, 420 coach
06 (30) 436-2527
uh.liaseht@aszrom

Zsolt Litkey
Optimist coach (beginners)
06 (20) 359-6603
moc.liamg@szyektil

Bálint Perjés
Optimist coach (travelling)
06 (70) 583-8293
moc.liamg@074sejrep
Kenderföld u. 19.
Tihany, 8237
Tel./fax: (+36) 87 448 707
8237 Tihany, Kenderföld u. 19.
How you find us on the road
Take road '71 from Balatonfüred towards Keszthely. About 5 kilometers after Balatonfüred follow the sign to Tihany-komp (Tihany ferry). You take that magnificent road on the lake side, and will find THE marina in about 6 kilometers on your left. If you reach the ferry port you passed our marina by 800 meters, so better turn back.
Prices in HUF
under 30 feet
30,1-38 feet
Over 38,1 feet
Mooring place prize / night
12.000 Ft
20.000 Ft
35.000 Ft
Electricity
10.000 Ft
15.000 Ft
35.000 Ft
Cranage
35.000 Ft
45.000 Ft
–
Bottom wash
12.000 Ft
20.000 Ft
26.000 Ft
Mast out
15.000 Ft
20.000 Ft
30.000 Ft
Mast in
15.000 Ft
20.000 Ft
30.000 Ft
Cover installing
12.000 Ft
20.000 Ft
28.000 Ft
Maintenance
18.000 Ft / hours + material
Anti-fouling painting
18.000 Ft / hours + paint
Trailer park
5.000 Ft / day
Car park
7.000 Ft / day
Deck wash
12.000 Ft
20.000 Ft
28.000 Ft
Use of slip for small boats
7.000 Ft
* All the prices include 27% VAT
Mooring place in the THE Marina 2023
category 1
category 2
category 3
category 4
category 5
Lenght in feet
0-18
18,1-24
24,1-30
30,1-36
36.1-
Lenght in meter
0-5,5
5,6-7,3
7,4-9,1
9,2-11
11,1
Yearly fee in Forint
660 000
1 250 000
1 690 000
2 060 000
2 450 000
Tourism tax (included)
HUF 6.000,- / year / boat
* VAT 27%
Above prices include the following services
one mooring place for a sailing boat
winter storage of the sailing boat in the marina' dock
cranage in and out
one car park place
trailer storage for the whole year
use of toilettes, showers, kitchen, club-room
electricity and water supply for the boat
free wireless internet and cabel TV in the marina
The sunny terrace stretching out to the water offers a magnificent view of the Lake Balaton, and the Tihany peninsula. The bustling life of a yacht marina puts you in the mood. Fine meals and wine complete your satisfaction. THE BAR is the perfect place to be on a summer afternoon!
This is where yacht owners of our marina socialize; where all the chatter takes place after a regatta. More and more charter sailors choose THE BAR to take a few hours' breaks and have a delicious breakfast, lunch or dinner.
Around sunset, people instinctually move their chairs to face the breathtaking view. This is the time to lay back, relax and enjoy the scintillating lights, the silence and the gentle breeze over the lake.
Reservation: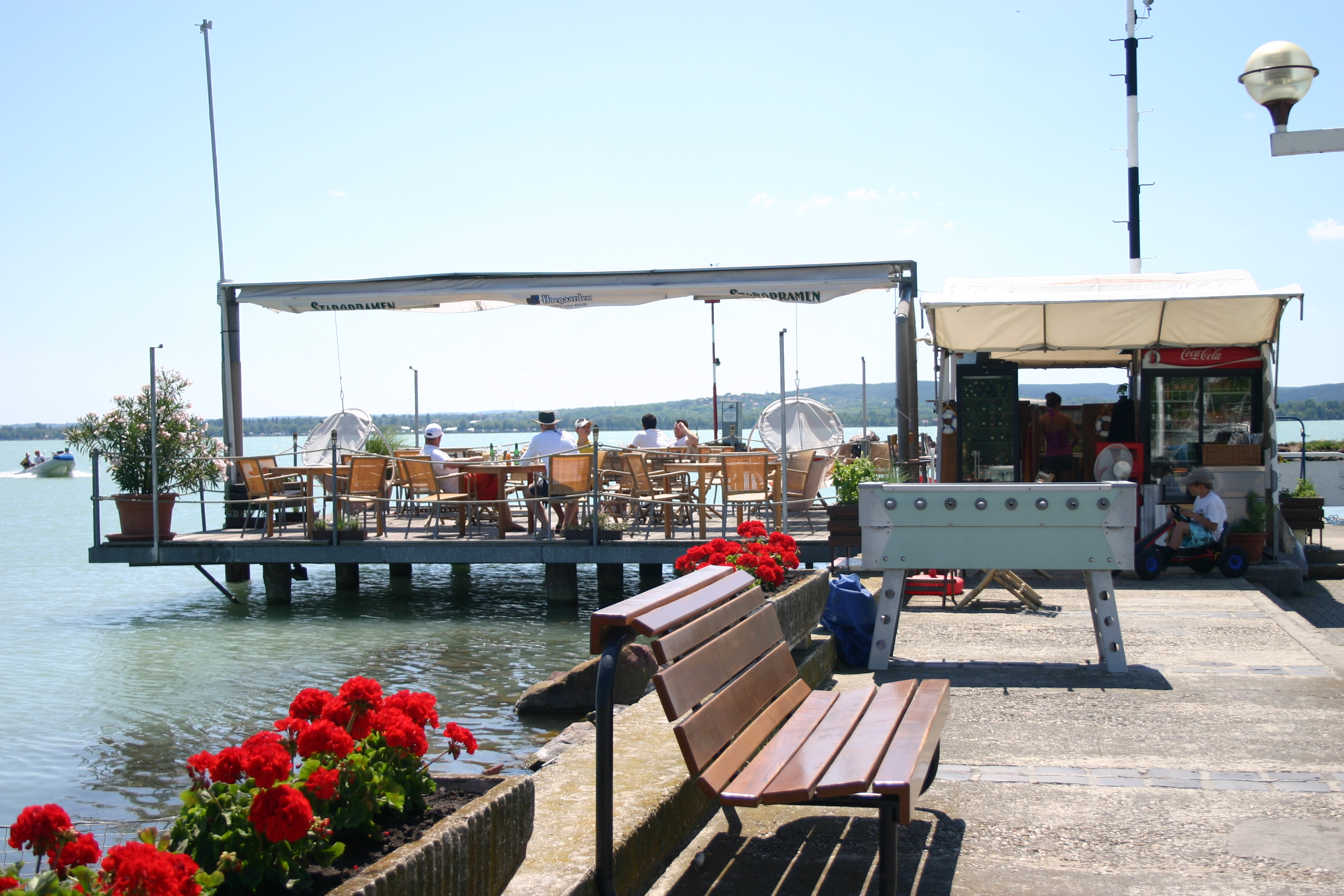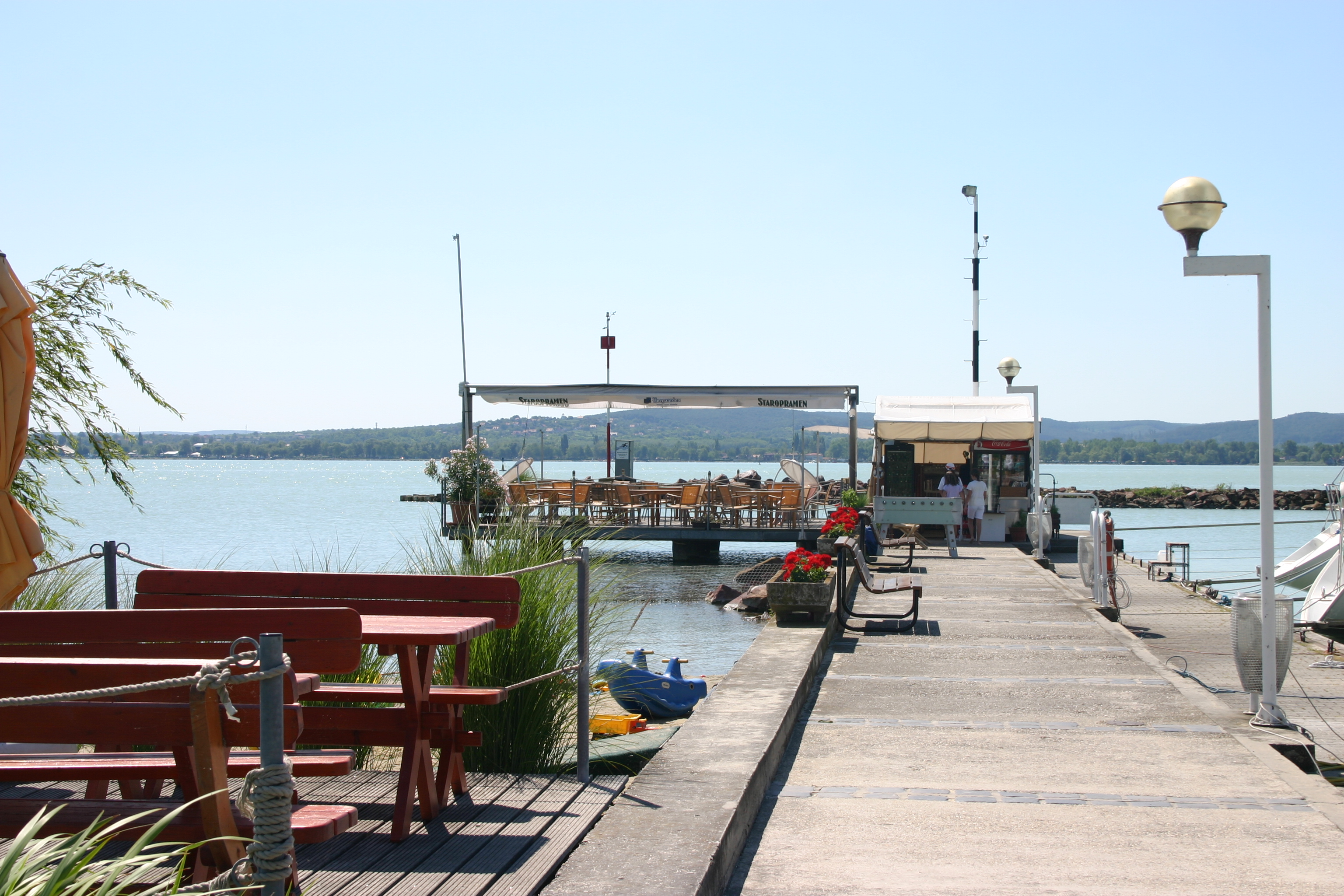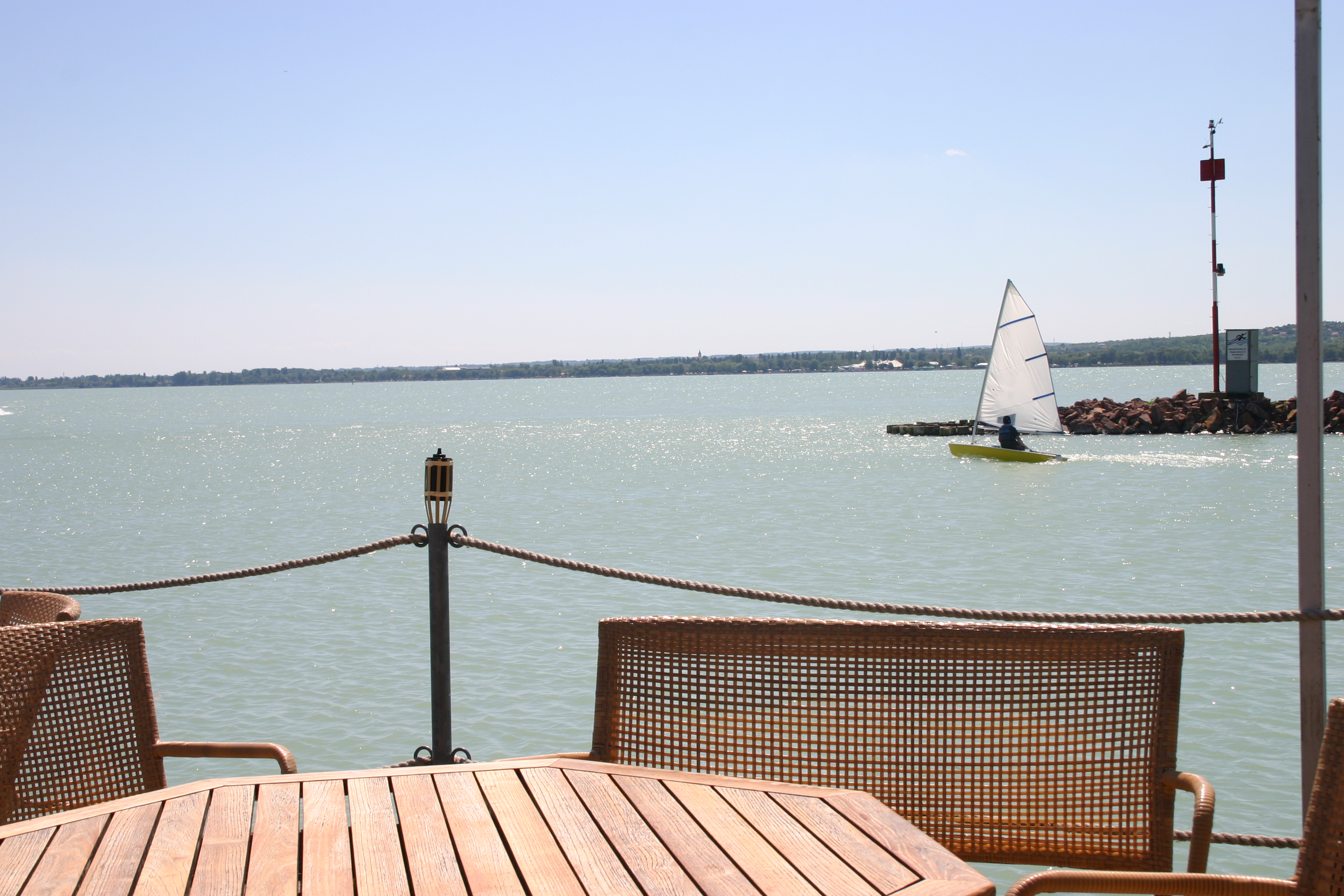 We can not reserve the three quest mooring places next to the Bar.